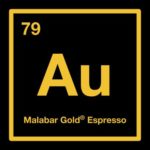 So many espresso blends are either (A) dark-roasted and unpleasantly bitter or (B) lighter-roasted and less bitter, but also overly sour and bright. What if there was an espresso that occupied the middle ground? One that emphasized sweet rather than bitter or sour? That's the approach we've taken with Malabar Gold® Espresso. By applying a scientific rigor to both the beans we use and the roast we employ, we've engineered an espresso blend that displays sweetness, crema, and mouthfeel.
"One of the greatest espresso blends on the planet…" [CoffeeRatings.com]
"Best. Espresso. Ever."  [Food Channel]
Our founder, a former nuclear physicist, launched Malabar Gold® in 1996. This culminated three years of research and development. Dr. John patterned the blend after Italian- and European-style espressos, with a roast profile in between those of Northern and Central Italy. In selecting beans, he chose ones with less acidity, so as to bring out sweetness, diminish bitterness, and avoid the sourness found in other lighter-roasted artisan blends.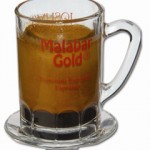 THE RESULT:
A sweet, smooth, mellow espresso with plenty of body and a pleasant, long-lasting aftertaste. The ample and velvety crema delivers the aroma of freshly ground coffee and is astonishingly persistent, lasting more than 20 minutes if left undisturbed. This helps integrate the rich flavor into lattes, cappuccinos, and other milk-based drinks.
More sweetness. Less bitterness. Creamy mouthfeel. Little/no acidity.  Isn't this what espresso is supposed to taste like?
Coffee houses, bakeries, and restaurants in 15+ states, three Canadian provinces, and Hong Kong currently serve Malabar Gold® Espresso as their primary espresso. Learn more about Josuma's Wholesale Program.
ORDERING MALABAR GOLD®
We roast Malabar Gold® to order and ship within 24 hours of roasting. Our default packaging is 5-pound, one-way valve bags. One-pound bags are available, upon request. To ensure freshness, we always stamp the roast date on the bag. We also recommend that you purchase only 7-10 days worth of supply at a time.
Wholesale Accounts:  The minimum order for Malabar Gold® is 10 pounds with no required order frequency. In return for this modest minimum, we ask that payment accompany your order. We accept all major credit cards. Wholesale customers will need to call us (650-366-5453) to place their initial order.
Individuals/Offices:   Pricing starts at $9.48/lb (plus shipping).  Visit our ONLINE STORE to review options and to place orders.  The lower Wholesale Account price is available for orders of 10+ pounds. Please note that we only offer whole beans (i.e. no pre-ground coffee).
Roast/Order Schedule:  We roast once a week (on Monday morning).  When ordering coffee, please place orders by noon (Pacific Time) on Friday.  Orders received after this deadline will be handled on a "best efforts" basis.
Malabar Gold® is also available as a pre-blended ready-to-roast green coffee.
SAMPLE REQUESTS
We encourage prospective wholesale customers to start with a two-pound sample. Use this to test whether your staff and equipment can produce high quality espresso using Malabar Gold®. We will gladly walk you through all adjustments to brew and grind parameters that may be necessary.
Visit our Roasted Coffee Samples page for request forms and our sample policy.