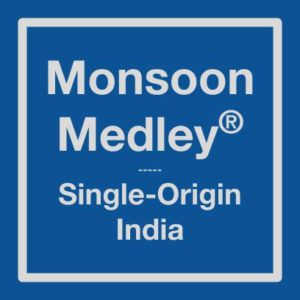 To produce Monsoon Medley®, we use Monsooned Malabar, a one-of-a-kind coffee that's unlike that from any other producing country. The coffee's bean size, color, roast, and cup characteristics are the result of "monsooning," a post-harvest process unique to India, where it is exposed to monsoon winds in an open-walled warehouse for 12 to 16 weeks. During the processing, the coffee loses nearly all of its acidity, making it the lowest-acid coffee in the world.
The monsoon process replicates what used to happen in olden days, when coffee travelled in wooden ships. The long voyage in a moist hold utterly transformed the beans by the time they reached Europe.
Learn more about Monsooned Malabar, the unique coffee bean we use for Monsoon Medley®.  See why food journal Lucky Peach calls it "a connoisseur's coffee you've never heard of…"
When brewed at full strength, Monsoon Medley® makes an excellent straight varietal coffee. Its cup characteristics include very low acidity, extremely high body, and a pleasant earthy taste. Many of our coffee house customers use it as their house coffee. Others offer it as a low-acid alternative to a standard house coffee as it is especially palatable to people with sensitive stomachs.
To produce Monsoon Medley®, we roast the same Monsooned Malabar-AA Super Grade green coffee that we import as part of our Direct Trade program.
Ordering Monsoon Medley®
Monsoon Medley® is roasted to order and shipped the same day of roasting. Our roasted coffee is typically packaged in 5-pound, one-way valve bags. One-pound bags are available, upon request. To ensure freshness, we always stamp the roast date on the bag. We also recommend that you purchase only a week's supply at a time.
WHOLESALE ACCOUNTS: The minimum order to receive Wholesale Account pricing is 10 pounds. In return for this modest minimum, we ask that payment accompany your order. We accept all major credit cards. Customers should call us (650-366-5453) to place their initial order.
INDIVIDUAL/OFFICES: Pricing starts at $8.48/lb (plus shipping).  Visit our ONLINE STORE to review options and to place orders. Orders of 10+ pounds are eligible for the lower Wholesale Account price. Please note that we only offer whole beans (i.e. no pre-ground coffee).
Roast/Order Schedule:  We roast once a week (on Monday morning). When ordering coffee, please place orders by noon (Pacific Time) on Friday.  Orders received after the deadline will be handled on a "best efforts" basis.